We all know that when comes to bedroom decor, whether they are about relaxation, ultimate comfort, luxury, grandeur and even quirk the pink theme will always come first and set the mood right. Pink is a color that is often associated with compassion, playfulness, kindness and love. I am sure that you must have heard the phrase- "in the pink of health"- the nurturing tone of these beautiful words are the reason that is enough to elaborate that how this pink color indicated comfort and luxury. And these are the definitely required characteristics for an intimate setting in a bedroom. There is no wonder that from interior designing to home decor.
Pink Two Colour Combination for Bedroom Walls
The pink two-color combination for your bedroom walls is in trend now. We must understand that pink color is no longer regarded as a gender-specific color and it is now famous in both home decor and the fashion world. But when it comes to bedroom wall colors, pink color is mostly reserved for girl bedrooms. Although, the pink palette is more than just bubblegum pink, princess and baby pink. To make a pink two-color combination for bedroom walls different tones can be used in a number of ways, the reason behind this is that Pink's color offers softer features and the color is complementary to both dark and light shades. The pink color theme for bedroom walls is mostly combined with light shade colors which offer a cheerful and cheery atmosphere to your bedroom. However, a two-color combination for bedroom walls of pink and dark color shades makes an enticing contrast of powerful and gentle tones.
Interior Design Services in Chandigarh (Verified Details)
For couples, we can try more romantic shades such as warm tones of orange, gold and deep blues. For kid's room can be decorated by using baby pinks and blues and cute motifs in these shades. When it comes to painting your bedroom walls then it is all about the desire and vibe. Dark pink, blush pink, hot pink, candy pink and dusty pink are some of the most popular shades that match every mood. When you are going to match pink color shades you should keep in mind that lighter shades make a sense of space while darker colors give the impression of a smaller room. Before jumping top of any color shade, you should explore the versatility of pink wall paint in your bedroom decor and design and should give a thought to your bedroom interiors too. You must consider how much wooden furniture you have in your room, whether you choose to include glass in the room decor. All of these factors work to make your bedroom look and it is very important to select the right shades of pink and complementary colors that suit your bedroom overall.
If you have a navy blue velvet sofa set in your bedroom then you can complement the walls with a pink two-color combination for bedroom walls such as white and candy pink.
Pink is a color that is combined with other colors then it works well for Scandinavian design, minimal decor, a modern industrial design, Victorian-era inspired interiors or a vintage vibe. One good option is to go for a dual-color design in which the lower half of the wall is painted in the darker color shade and the upper part of the wall should be painted in the lighter color shade. Pink two color combinations for bedroom walls are among one of the most trending styles for home decor and pink is a unanimously favored color because of its ability to complement any other shade and blend into all kinds of interiors of your bedroom.
Glass Services in Chandigarh ( Verified Information )
Here we bring a list of shades of pink combined as two color combinations for bedroom walls.
1. Green and Peach pink- 
Dark colors such as bottle green add more depth to your bedroom and pink adds a fun element to balance out the severity. Pink color then for bedroom walls with these two colors offers an excellent chance to decorate your room with golden decor pieces.  Pink walls are contracted with the dark green shade that provides a great backdrop for a gold-finish wall-mounted slide lamp, with side tables with fish pots and you can up the contemporary sophistication a level. If you want that vintage vibes straight out of the 70s you can go for a deep bottle of green to complement the light and dainty shade of pink, it works wonders in a small bedroom. While green color stimulates the sense and makes an intimate atmosphere and the light shade of pink offsets the bold color and lends playfulness to your bedroom. Both intimacy and playfulness are great elements for the bedroom. An interior decor piece such as a bonsai cacti plant will give style to this bedroom.
2. Blue and Pink- 
Blue is the color that stands out against a beautiful petal pink. You can complete this pink color theme for bedroom walls with a grey wardrobe. With pink and blue on the bedroom walls establish the tone for more space that makes the bed linen neutral with the grey wardrobe. A classic brown bed and white side tabled complement your bedroom's color theme. The medium brown flooring makes the blue-pink color combination of your bedroom stand out.
3. Jet Black and Pink-
This is one of the great examples of a pink dual color combination. The bottom half of the bedroom wall is painted is stark black shade and the upper half is reserved for a light shade of pink color. Both these colors work well to offer a cozy as well modern feel to the bedroom. The geometric sense that this division of color offers an ideal for urbane couples and city homes if you like to stay in trend.
4. Shimmery Golden and Bubblegum Pink-
This is a riyal color combination as bubblegum pink adds a certain amount of charm to the bedroom that is jazzed up by adding a shimmery shade of gold. You can also consider an accent wall behind your bed which is done up in paisley or floral motif. You must let this wall be swathed in pink and reserve the golden color for smaller sculptures, artwork or even the material of the bed. As gold is the color with the bolder personality and it must be used minimally with more subtle colors to make an ideal regale ambiance.
5. Ash Grey and Dusty Pink-
This color combination for bedroom walls used muted ash grey to make a minimal bedroom that is shooting and this combination is for you if you do not like wall colors to overpower the rest of the bedroom interiors. Metallic lampshades, wooden furniture and other accessories blend with this color combination that is usually seen in the bedroom of creative and intellectual persons. The best part of these colors is that they offer an ideal backdrop to play around with the rest of the elements of your bedroom.
6. Silver and Pink-
Pink bedroom walls with a silver print can add more character to the walls without demanding too much attention. Touches of lavender will also settle well into this combination, as you can add lavender with full-length curtains and bed linen. You also can pick side tables and stamps in white with a glossy finish to complete the look of your bedroom.
7. Yellow and Pink-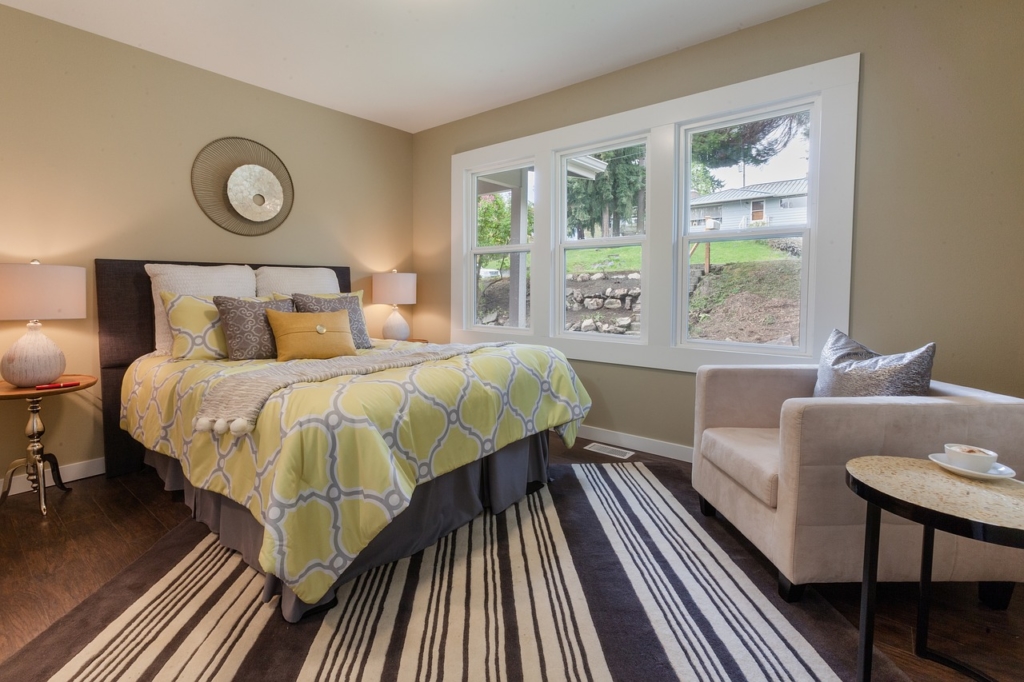 The yellow color introduces a burst of sunshine in any color palette and it pairs well with pink. This combination will lend your bedroom a friendly and inviting vibe. Paint all the walls in a pretty blush pink but reserve the wall behind the bed for a fun striped print in yellow and white. This wall turns into the feature wall of your bedroom as pink balances the look of the rest of your room. You can also add powder blue and grey to this color palette without making the room too cluttered.
8. Burgundy and Pink-
The burgundy color can be paired with oink for making interesting wall shades and textures as this combination is perfect for bedrooms that are spacious and both these shades come with similar undertones, they make a perfect contrast with each other.  You can integrate burgundy and pink on your bedroom's wall or by your furniture items in the plush burgundy hue.
9. Orange and Pink-
The orange color is very close to pink but that visually confuses them a bit, so this is a more risky combination.  The colors must breathe within the space, although adding some white is a very recommendable option.
10. Red and Pink-
Similar to the orange color, red is also a color that is close to pink on the color wheel. Pink is generated by a bit of white with red. Combining red and pink is possible and gives you very powerful visual results. In this case, black is the color that can be used to balance the colors and the result is very interesting.
11. Beige and Pink-
If we talk about the colors that can be combined with pink then we can also go for beige, as beige is a very light brown color that is associated with all in classic and traditional looking environments, Beige is a super warm color so this color helps us to makes comfortable spaces.
12. Hot Pink and White-
Pink and white go hand in hand so it makes a good combination for bedroom walls. This color combination is in trend and widely chosen os the hot pink walls that are coupled well with white in the bedroom. You can get also alternate walls painted with splashes of the two colors or just have painted one wall in textured pink and the other walls in white. You can also choose a hint of pink in a white room as a pink lamp pr pink painted headrest on the wall or even a pink bookshelf. The mild shades of pink make the room more calming and soothing.